INDUSTRY NEWS
USCIS Begins Issuing Form I-94 with ADIT Stamps Indicating Lawful Permanent Residence Status by Mail
A new operational process allows applicants to obtain proof of their Lawful Permanent Resident (LPR) status without requiring an in-person appearance at a field office.
This new process allows for the more timely resolution in providing evidence of status to LPR's for employment purposes, reducing the burden on applicants and increasing field office resources for other important purposes. Please note that in some instances an in-person appointment may still be required if the resident does not have a usable photo in the USCIS system or if their address or identity cannot be confirmed.
Proof of Lawful Status
LPRs may require temporary evidence of their lawful status (including employment authorization) in the following situations:
They do not have their green card; or
Their Form I-90, Form I-751, or Form N-400 are still pending adjudication and their Green Card and extension notice have expired.
Form I-9 Implications
A Form I-94 with ADIT ("Alien Documentation, Identification, and Telecommunication", also known as a temporary I-551) stamp is an acceptable List A document. It is considered a "receipt" insofar as it is temporary proof of permanent status and documented using the title "Form I-94 with Form I-551 Stamp and Photo." This document may be used for Form I-9 and E-Verify purposes.
Examples of how the Form I-94 with photo and ADIT stamp appears are shown below.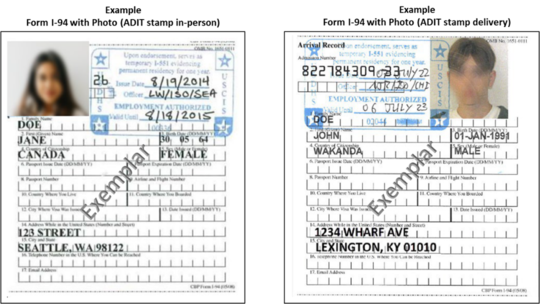 Source: U.S. Citizenship and Immigration Services
Posted: March 20, 2023
---
All Rights Reserved © 2023 Truescreen, Inc.
This document and/or presentation is provided as a service to our customers. Its contents are designed solely for informational purposes, and should not be inferred or understood as legal advice or binding case law, nor shared with any third parties. Persons in need of legal assistance should seek the advice of competent legal counsel. Although care has been taken in preparation of these materials, we cannot guarantee the accuracy, currency or completeness of the information contained within it. Anyone using this information does so at his or her own risk.
What Our Clients Are Saying
The service you provide at Truescreen has been the best I have ever seen in comparison to other vendors I have worked with in the past! You guys rock!
I am very impressed with your company's customer service, and the Truescreen portal seems to be an intuitive, user-friendly design.
Our team loves working with Truescreen and the expedient, thorough service and results we get from you.
I appreciate all your hard work ensuring that individuals are cleared through our processes. Truescreen makes my job so much easier and less stressful.