INDUSTRY NEWS
Additional Afghan Parolees May Use Form I-94 to Establish Work Authorization
USCIS announced that additional Afghan parolees are able to use their Form I-94 to establish work authorization for 90 days.
Truescreen has previously reported on regulatory changes to implement legislation passed by Congress in 2022, stating that Afghanistan and Ukraine parolees should be treated as refugees entitled to the benefits of a refugee status – including work authorization incident to such status or admission.
Parolees Employment Authorized Incident to Status
On June 8, 2023 USCIS announced that employees with an unexpired Form I-94, with an admission class of "PAR" and "Afghanistan" as country of citizenship, may present the Form I-94 as an acceptable List A document for Form I-9 purposes.
Additionally, as previously reported, individuals meeting the following criteria may use a Form I-94 as a List A document to establish work authorization:
A citizen of Ukraine or Afghanistan who presents a Form I-94 showing a class of admission of "UHP"

or

"OAR", or
A Ukrainian citizen who presents a Form I-94 showing a class of admission of "DT" and the Form I-94 was issued between February 24, 2022 and September 30, 2023.
See sample below for an example of an applicable Form I-94: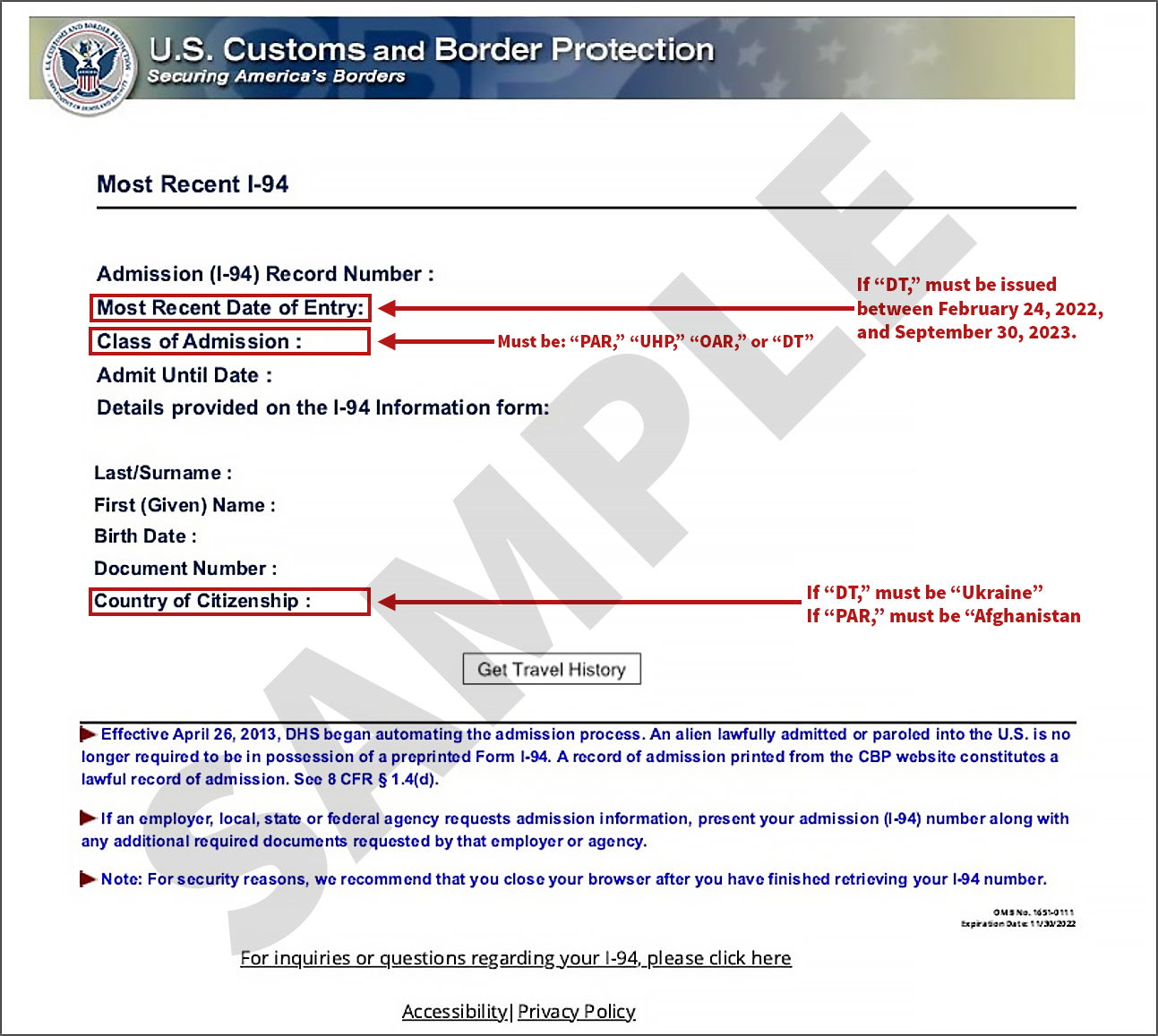 Reverification
Individuals who present the Form I-94 as outlined above must reverify with, or present within 90 days of hire, either a Form I-766 or combination List B document and Social Security Card.
Source: U.S. Citizenship and Immigration Services
Posted: June 29, 2023
---
All Rights Reserved © 2023 Truescreen, Inc.
This document and/or presentation is provided as a service to our customers. Its contents are designed solely for informational purposes, and should not be inferred or understood as legal advice or binding case law, nor shared with any third parties. Persons in need of legal assistance should seek the advice of competent legal counsel. Although care has been taken in preparation of these materials, we cannot guarantee the accuracy, currency or completeness of the information contained within it. Anyone using this information does so at his or her own risk.
What Our Clients Are Saying
The service you provide at Truescreen has been the best I have ever seen in comparison to other vendors I have worked with in the past! You guys rock!
I am very impressed with your company's customer service, and the Truescreen portal seems to be an intuitive, user-friendly design.
Our team loves working with Truescreen and the expedient, thorough service and results we get from you.
I appreciate all your hard work ensuring that individuals are cleared through our processes. Truescreen makes my job so much easier and less stressful.