RFP Kit
The process of looking for a new applicant screening provider can seem like a daunting task. An RFP that fails to clearly address your unique pain points and pose appropriate questions can hamper your evaluation process. The resources found here will help you use the RFP process to your best advantage and streamline, not stall, your search.
COMMON QUESTIONS
Can Truescreen integrate with our HRMS or applicant tracking system?
Yes. Truescreen has extensive experience designing, implementing and executing integrations of our systems with a wide variety of commercial applicant tracking systems and client-based HRMS systems.
We have successfully integrated with all of the major ATS/HRMS and licensing systems, including Avature®, BrassRing®, CareerBuilder®, Cornerstone®, erecruit®, Greenhouse®, iCIMS®, Infor®, Kenexa®, OnBase®, Oracle®, PageUp®, Peoplefluent®, PeopleSoft®, Salesforce®, ServiceNow®, SuccessFactors/SAP®, Taleo®, UKG®, and Workday®.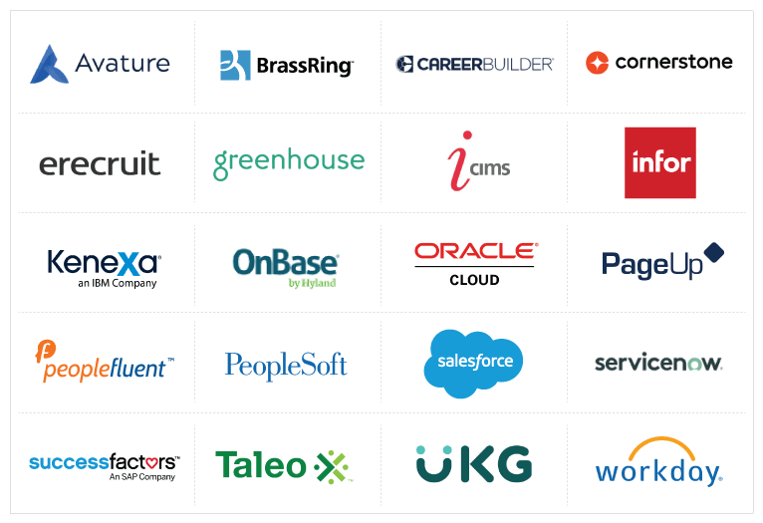 Truescreen integrates our services with client information and software systems using our proprietary ATS Toolbox developer's tool. This customizable, open-architecture systems design methodology provides clients with the flexibility to link their choice of best-in-breed ATS/HRMS software and systems with our services and tools.
Truescreen is also HR Open Standards-certified, which confirms our software and services use the data exchange standards developed by the HR Open Standards Consortium, and ultimately provides our clients with a secure, flexible mechanism for a full range of screening report request and delivery workflow requirements.
For more information on our ATS Toolbox, click here.
What Our Clients Are Saying
The service you provide at Truescreen has been the best I have ever seen in comparison to other vendors I have worked with in the past! You guys rock!
I am very impressed with your company's customer service, and the Truescreen portal seems to be an intuitive, user-friendly design.
Our team loves working with Truescreen and the expedient, thorough service and results we get from you.
I appreciate all your hard work ensuring that individuals are cleared through our processes. Truescreen makes my job so much easier and less stressful.